Dark Fiber
Many companies have office buildings located in close proximity to each other and wish to have them interconnected through a network they manage and control.
Traditionally, the only way to connect each office building was to lease capacity from the incumbent or Competitive Local Exchange Carrier (CLEC). This solution reduces the network's flexibility, reliability, and introduces security risks.
The alternative to this solution would be to build a private network between each building. Unfortunately many local agencies and public works departments will not allow individual companies to install their own network structure within the Public Right of Way.
Point To Point, Inc. was founded to provide this service. Whether your buildings are located across the street, down the block, or across town, we can place structure to meet your needs.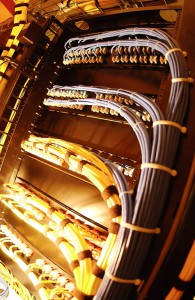 Your structure may consist of fiber, copper, or whatever else is required. It can be placed in a point-to-point, ring, or mesh topology. If desired, Point To Point can supply transmission equipment that will interface with your network. Or we can simply terminate cabling and allow your organization to handle transmission issues.
Call (916) 861-2225 or email us for more information.